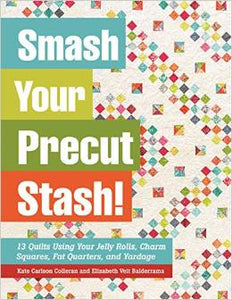 Kate Colleran Designs
Smash Your Precut Stash
Regular price
$25.00
$0.00
Unit price
per
We have books back in stock, ready to ship!

Have you ever bought the perfect stack of fat quarters, only to see that same bundle decorating your shelf two years later? Give stashed fabrics new life with 13 quilt patterns to make the most of your precut collection! Let us show you the basics of how to quilt from your stash, with a special focus on color, print, and scale. Learn how to add additional yardage, mix and match different fabric lines, and design a stunning quilt from fabric you already have on hand.
--
• 13 fresh patterns to use your stash of precut squares, strips, and fat quarters
• Options galore! Alternate colorways and precut choices, such as using 3 fat quarters, 11 precut strips, or 42 charm squares.
• Tips for resizing quilts with multiple borders or border blocks
• Autographed by Kate!

Smash Your Precut Stash is also available as an eBook!  Click Here
---